The Vocalists & Musicians of Appalachia
The Fields of Gettysburg song cycle is interpreted by a stellar collection of vocalists and musicians. Every player and engineer involved in the making of The FOG hails from and/or lives in the Appalachian Region of the eastern United States stretching from Wheeling, West Virginia to the Mid-Ohio Valley (Marietta, Ohio/Parkersburg, West Virginia) to Charleston, West Virginia.
"The FOG" ensemble is privileged to include the luminaries
Larry Groce, Tim O'Brien, Todd Burge, Michael Lipton, & Don Dixon
The musical heritage of Appalachia runs deep in the fabric of America. The blend includes the ethnic styles of the region's original inhabitants, pioneers and settlers as well as the roots of the truly American musical styles of country, blues, bluegrass, and jazz.
Please, read on and meet all of these uniquely talented and earnest musicians - they have much to share, which they have done beautifully and graciously on The Fields of Gettysburg... 
John A. Walsh - "James Longstreet" & Composer
John A. Walsh is The FOG's composer and sings the role of General James Longstreet in the song cycle.  He is also The FOG's primary guitarist and plays mandolin on the album.
Born in North Tonawanda, New York, John was raised from a young age in Marietta, Ohio, where he began playing guitar and writing songs at age 11 in 1974.  He cut his musical teeth on the great Singer/Songwriters of the 1960's & 1970's. From those early days, Walsh continually refined his skills and now has well over 40 years of writing experience under his belt. His special talent for lyrical depth coupled with a oft-times off-the-beaten-path style of chord progression and song structure renders unique, listenable and memorable songs. His songs have been described as "intensely personal," "he sang what I wanted to say..." and, "the lyrics read like a painting..." Over the years, Walsh has written scores of songs and has performed both as a soloist and in a variety of bands all over the United States. John has had the opportunity to play on the same stage with notables such as Jason Isbell, Lucy Kaplansky, Tim O'Brien, Amanda Shires, Dennis DeYoung and Larkin Poe. He has released seven albums (as a soloist and with George's Attic and The Fossils).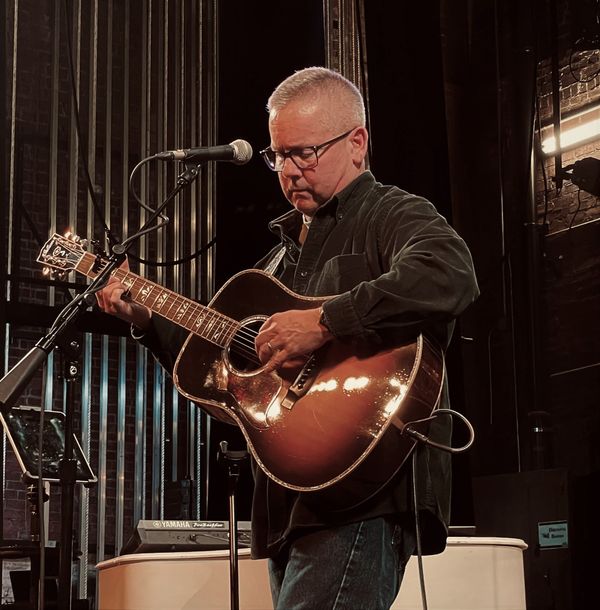 After graduating from Salem College (Salem, WV) in 1986, John became an officer in the U.S. Air Force.  He and his wife, Darlene, married in 1987 and spent the next ten years living west of the Mississippi, mostly while John served in the USAF.  They have lived in California, Wyoming, Texas, Nevada and Iowa.  John also served a short tour in Saudi Arabia during Operation Southern Watch in 1995.  After separating from the USAF in 1996, the Walsh's ultimately settled back in the Mid-Ohio Valley at Vienna, West Virginia.  John and Darlene have lived in Vienna, West Virginia, since 1996 and have two daughters, Emily and Caroline.
As a master songwriter, history enthusiast, and veteran, it seems only natural that John would forge those elements into something special. The Fields of Gettysburg is that high watermark for John as a composer, musician, American, and storyteller.
John became immediately active in the local music scene after relocating to Vienna.  In addition to playing live regularly, Walsh has recorded his music extensively.  He served as a board member of the West Virginia Music Hall of Fame; also, John served on the Colony Theater Hippodrome Restoration board (now the Peoples Bank Theatre in Marietta, Ohio), he still serves on the Theatre's finance committee.  Walsh was instrumental in the development and opening of The Adelphia Music Hall, now a premier live music venue in Marietta.
In 2013, John released The Fields of Gettysburg to coincide with the sesquicentennial anniversary of the Battle of Gettysburg.  John's all original song cycle brought real historical characters to life, enabling the listener to get to know people of the day on a personal level.  The record, co-produced by Parkersburg singer/songwriter, Todd Burge, brought together an impressive ensemble of musicians, including Mountain Stage's Larry Groce and Michael Lipton, two-time Grammy winner Tim O'Brien, Jessica Baldwin, Colton Pack and Justin Arthur.  Met with wide critical acclaim, The Fields of Gettysburg was featured on NPR's Mountain Stage and is currently available at Tamarack and The Gettysburg National Park's Museum Gift Store.  For more information on John and his music, please visit www.johnawalsh.com
A great anthology of John's recordings can be found and downloaded here:
Videos:   Your Time Has Come     The Ballad of Johnny Cash(flow)     Mountain Stage
 Contact info: john@johnawalsh.com        Photo by Logan Mace
Todd Burge - "John Buford" & Co-Producer
Employing wry humor, dexterous guitar work and drawing on a rich variety of life experiences, Todd Burge has emerged as one of West Virginia's most prolific singer/songwriters. Burge, has played everything from Alternative Rock to Contemporary Folk, performing concerts at festivals and in venues as diverse as CBGB's, The Country Music Hall of Fame,  The Kennedy Center, and of course, literally hundreds of clubs including the obscure, to the world famous Caffe Lena, Club Passim and Music City Roots.  He is a repeat guest on NPR's Mountain Stage and has been called the "dean of WV songwriters, the best we have", by its host, Larry Groce. In 2014, Burge wrote 13 songs for a musical adaptation of Love's Labour's Lost by William Shakespeare. The show received great reviews as it was performed at Muskingum Park in Marietta Ohio, produced by Marietta College/The Colony Theatre and directed by Geoff Coward.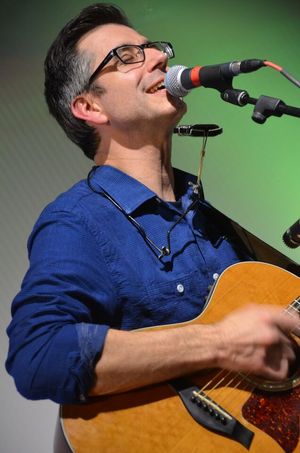 Todd - in addition to co-producing The FOG - sings the role of General John Buford and plays the harmonica on the album. Todd's vast performance experience and musical skill-set bring a special kind of shine to The FOG. He has generously provided wise counsel to Walsh and a productively honest viewpoint - all facilitating the best possible listening experience to FOG fans.
Burge, who may be best known for his method of writing songs from the perspective of odd characters, bugs and animals (listen to Building Characters produced by Don Dixon) has recently released an album of very personal songs entitled Imitation Life (2015). The recording was produced by long term collaborator, Tim O'Brien. O'Brien is an inductee of the WV Music Hall of Fame and Grammy winner. The album includes a song called Change (For Clean Water) which features Kathy Mattea on backing vocals.  Todd Burge resides in Parkersburg WV with his wife Lisa and their children, Will and Sophia. 
For more info on Todd & his music, visit www.toddburge.com.
Check Todd out here at the Nelsonville Music Festival Gladden House Sessions
Larry Groce - The Narrator
The Fields of Gettysburg's Narrator, Larry Groce, is a singer, songwriter and one of the founders of West Virginia Public Broadcasting's Mountain Stage, distributed nationally by NPR. He's been host and artistic director of that show since its beginning in 1983. He was also one of the founders and Executive Director of FestivALL Charleston, a ten day multi-arts festival, from 2005 until 2015.
Larry has recorded twenty-four albums and the top ten hit single "Junk Food Junkie". The albums include many releases for Walt Disney records, one of which was nominated for a "Children's Record of the Year" Grammy.
The New York Times, People Magazine and other national publications have profiled him and he's performed on The Tonight Show, The Merv Griffin Show, American Bandstand, The Midnight Special, The Rich Little Show, Nashville Now, The Disney Channel, Doctor Demento (Junk Food Junkie was Demento's "Song of the Year" in '76) and A Prairie Home Companion.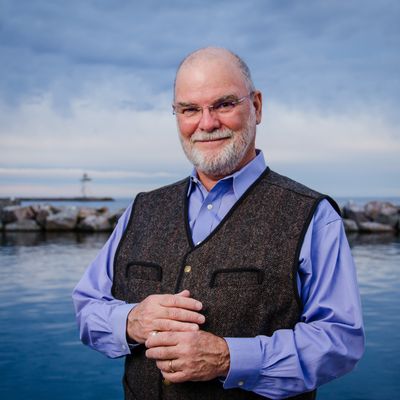 Larry was born in Dallas and lived in New York and Los Angeles before moving to West Virginia in 1972 as part of a National Endowment for the Arts Musician-in-Residence program.  While living here, he also did musician residencies in twenty-two other states. Along with his music and production work over the years, he owned the Morgantown School of Ballet, co-owned the alternative news and humor magazine Graffiti, and acted in the feature film, Paradise Park.
In 2008 Larry was awarded the West Virginia Governor's Award for Leadership in the Arts, in 2010 he was inducted into the West Virginia Broadcasters Hall of Fame and in 2012 he was named Outstanding West Virginian by the West Virginia Chapter of the Public Relations Society of America. In 2013 he was an honoree at the Charleston Community Music Association's Arts Awards and he has received honorary Doctorate of Music degrees from the University of Charleston and West Virginia Wesleyan College.
He and his wife Sandra recently recorded and released an album called "Live Forever" produced by Don Dixon.
Photo by Josh Saul
Two-Time Grammy Award winning Americana master Tim O'Brien is the Fiddler on The FOG!
In Tim O'Brien's music, things come together. The uncanny intersection of traditional and contemporary elements in his songwriting, his tireless dedication to a vast and still-expanding array of instruments, and his ongoing commitment to place himself in as many unique and challenging musical scenarios as possible has made him a key figure in today's thriving roots music scene – and well beyond it. O'Brien's presence – be it as a bandleader, songwriter, mentor, instrumentalist, or vocalist – has been strongly felt not only in his own rich music, but in the many recordings of his songs by such artists as the Dixie Chicks, Garth Brooks, Dierks Bentley, Nickel Creek, Kathy Mattea, the New Grass Revival, and the Seldom Scene, and in his recorded collaborations with Steve Martin, the Chieftains, and innumerable others. Most recently, O'Brien has been performing before capacity crowds in the band of Mark Knopfler, who described O'Brien as "a master of American folk music, Irish music, Scottish music – it doesn't matter; a fine songwriter and one of my favorite singers."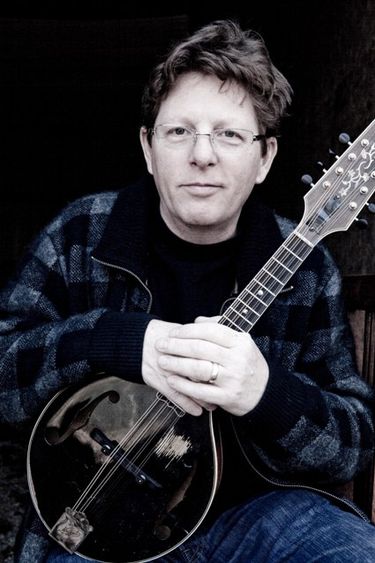 O'Brien listens to bluegrass and hears the music's roots in modal Irish ballads and vintage swing. He insightfully re-examines and reconstructs those styles, and many others, in his own music, throwing off new sparks by reawakening the tension and interplay of the colliding components at the heart of American music. "Over the years," he explains, "my music has become a certain thing. Each time I go into the studio to make a new album, I could make an Irish record, or a bluegrass record, or a country record…but it seems artificial to sift anything out. I feel like I'd be leaving out something important. In the end, I just try to make it round…"
Growing up in Wheeling, West Virginia, O'Brien was surrounded by classic country and bluegrass music first, subsequently augmented by the revolutionary folk music the era, including Bob Dylan, whom O'Brien paid tribute to on the acclaimed 1996 release Red On Blonde. While his sister (and occasional collaborator) Mollie took piano lessons, O'Brien pursued guitar and banjo on his own, eventually adding mandolin and fiddle to his arsenal by the time he left for college. Dropping out of a northeastern liberal arts college after a year, O'Brien headed west, eventually settling in Boulder, Colorado, where a burgeoning, eccentric roots music scene was forming. Following a stint in the endearingly ramshackle Ophelia Swing Band, O'Brien co-founded the bluegrass band Hot Rize in 1978, with guitarist Charles Sawtelle, bassist Nick Forster, and banjo player Peter Wernick. Combining a healthy reverence for bluegrass tradition with a playfully postmodern sensibility, Hot Rize became a fan and festival favorite, recording a series of acclaimed albums for the Flying Fish and Sugar Hill labels until dissolving in 1990 – at which point O'Brien had already begun to establish himself as a solo artist.
Accolades for Tim and his amazing musical journey include:
> Won 2015 Grammy Award for Best Bluegrass Album with The Earls of Leicester
> In 2005, O'Brien won a Grammy Award for Best Traditional Folk Album for Fiddler's Green.
> In 1993 and 2006, O'Brien was honored with the International Bluegrass Music Association's (IBMA)'s Male Vocalist of the Year award.
> His band Hot Rize was the IBMA's first Entertainer of the Year in 1990.
> He scored a Top 10 US Country Hit in 1990 with "The Battle Hymn of Love," a duet with Kathy Mattea
Tim's Website:  http://timobrien.net/
A couple of "must see" Tim videos:
"Brother Wind" - http://youtu.be/iPkDz4T2eVE
"Hey Joe" - http://youtu.be/62db5rMc2ns